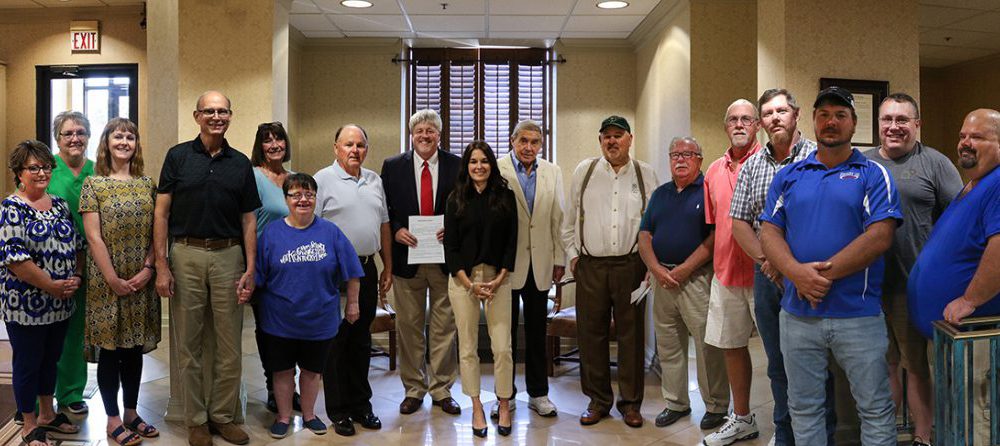 Bank of Columbia Donates Land To AC Fair Board
The Adair County Fair Association is proud to announce that the Bank of Columbia has made a generous donation to enable the organization to bring the tradition of the full county fair back to our community.
The Fair Association has been searching for a new location to hold the fair since 2016, when the former location became unavailable. The volunteer organization has continued to host staple fair events like pageants and livestock showing, but has never given up hope to return the fair to its former glory, complete with a carnival and exciting events that have always been a popular draw for the community.
The Bank of Columbia Board of Trustees is pleased to donate 10.23 acres located on the southeast side of Industrial Park Road to the Adair County Fair Association for the development of a new Adair County Fairgrounds.
"It is important to the Bank of Columbia to give back to Adair County," Bank of Columbia President/CEO Mark Dykes explains. "We have complete faith in the dedicated volunteers of the Adair County Fair Association and their vision for the future fairgrounds."
The Adair County Fair Association and the county have a rich history together with the first fair being a four-day fair in August of 1884. The fair influences restaurants, hotels, stores and businesses of all types with a boost to the local economy around the week of the fair. Pageants, floral hall exhibitions and various competitions bring recognition to local talent, as well as thousands of dollars in prize money.
As with any property, there is going to be a lot of site preparation work needed for a county fair, from earth work, water and electric, buildings, bleachers, and much more. It will take several years to have the resources enjoyed in the past, but the Fair Association plans to have some events and a carnival on the new fairgrounds in 2020.
Planning and organizing a bigger and better Adair County Fair requires financial support and many volunteer hours. The Bank of Columbia is optimistic that this donation will encourage other businesses and individuals to get involved and support the Fair Association either by making a financial contribution or as a volunteer.
The Adair County Fair Association is extremely grateful to the Bank of Columbia for their support and extend their highest gratitude and appreciation for such a donation.
"We are pleased to help the people of our community grow their families, businesses and dreams," Bank of Columbia board member Greg Hill says. "It is our hope that by donating this property, we can watch many more generations make memories in their hometown."