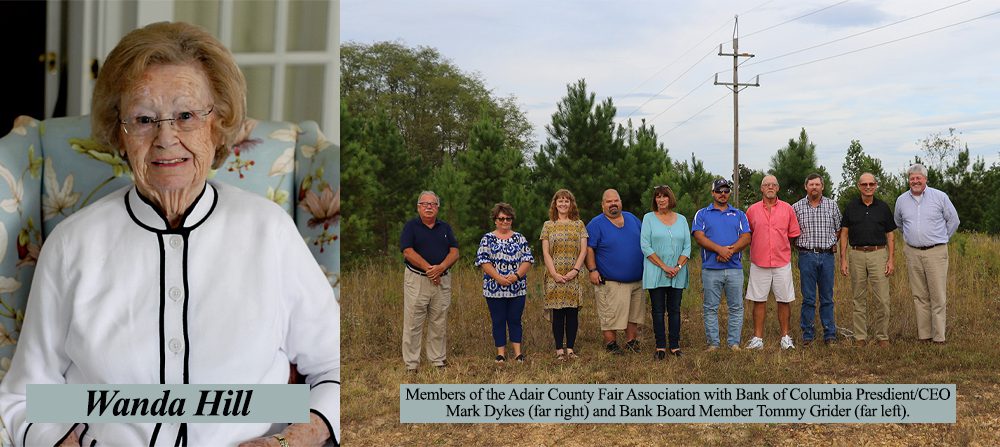 Land Donation to Support Return of Adair County Fair Made in Memory of Mrs. Wanda Hill
Since the last full Adair County Fair was held in 2016, the Adair County Fair Association has been searching for a new location to continue the strong tradition of organizing an award-winning fair for this community.
Bank of Columbia's Board of Directors is proud to donate 10.23 acres to the Fair Association in memory of Mrs. Wanda F. Hill for the purpose of hosting the county fair once again.
Having graduated from Lindsey Wilson College in 1947, Mrs. Hill taught in the Adair County School District for 12 years before retiring. She was appointed 15th President of the Bank of Columbia in 1987, following in the footsteps of her husband, Richard Paull Hill, and father-in-law Fred Paull Hill, both of whom served as previous presidents. Mrs. Hill first served on the Board of Directors as Secretary and continued to hold the title of Chair until her passing November 30, 2019.
Both of Mrs. Hill's sons, Gregory Paull Hill and Stephen Frederick Hill; nephew, F. Preston Farmer; niece, Patricia Farmer Huff; great nephew James David Huff; and great niece Suzanne Farmer Clarke hold seats on the board as well. Terry Forcht and Tommy Grider complete Bank of Columbia's Board of Directors.
The Hill family continues to share the love and dedication to this community Mrs. Hill had. It is that love that has helped Adair County and the Bank of Columbia continue to grow.
"We are fortunate to have a Board of Directors who value tradition and community," Bank of Columbia President/CEO Mark Dykes says. "Mrs. Hill and her family have been dedicated to the growth of Adair County and continue to support projects and organizations devoted to the betterment of Adair County. One of those projects is the return of a full county fair."